One-of-a-kind Handcrafted Italian Jewelry? Meet Annamaria Cammilli Jewels in Bangkok
It's time for Bangkokians to rejoice! For Marco Bicego, a top-tier Italian jewelry brand from Veneto region of northern Italy has arrived in Bangkok exclusively at Scintilla Gioielli, Siam Paragon.
Each Marco Bicego jewel is conceived by master craftsmen to be no less than a work of art etched in rare stones and precious metals. Even with a predetermined design, these master craftsmen interpret each masterpiece with their own experience, particular skill set, materials at hand and more. Thus, no two bracelets, rings or necklaces can ever be the same. A true one-of-a-kind jewel made perfect with human touch.
While an elegant outfit might seem enough to be well-presented in a room, nothing beats the charm of handcrafted, refined jewelry that elevates your whole appearance. Something Marco Bicego fine jewelry offers with its artistic design and distinctive Italian craftsmanship.
Marco Bicego Brand Heritage and Values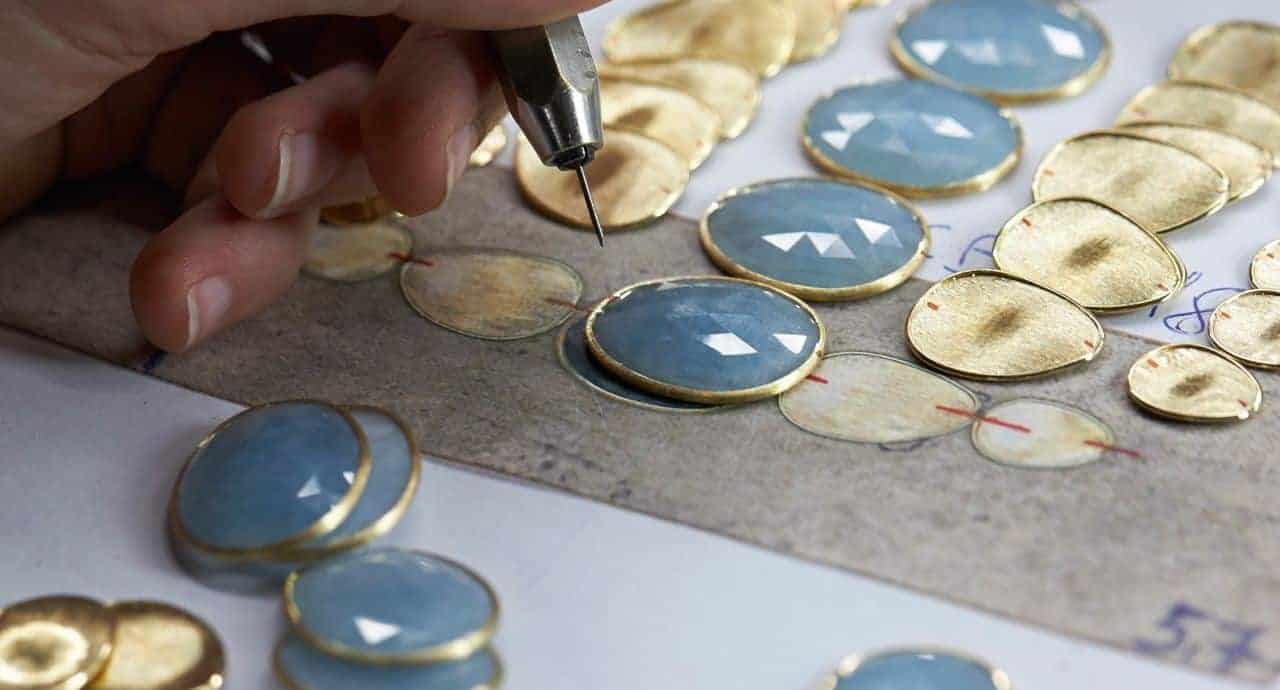 Marco instituted the legacy, traditions, and virtues of his lineage in the form of iconic fine jewelry at Marco Bicego. The brand speaks of Italian craftsmanship and contemporary design at its best, with every piece specially handcrafted in their Trissino headquarters in Veneto, Northern Italy.
This particular high jewelry brand in Bangkok stands out because of its characteristic fusion of contemporary design sensibilities with the touch of timeless Italian craftsmanship. Marco Bicego's creations are flexible enough to be paired with a multitude of fashion genres, making it one of the best choices for everyday elegance.
Marco Bicego's jewelers start by smelting their very own 18K gold in-house. From there, master craftsmen use their traditional hand engraving and gold-coiling techniques to bring their creations to life with such passion you would feel it just by touching the fine etches on each piece.
Fine and high jewelry collections from Marco Bicego exudes an unwavering sophistication, confidence, and class for the contemporary woman. They are pieces crafted to retain its beauty for life and versatile enough to say goodbye to your safe.
Discover Marco Bicego Signature Collections in Bangkok
The hallmark collection of Marco Bicego, known for its enduring elegance and modern flair, goes by the name Marrakech Onde. These 18K gold coils are hand-twisted and hand-hammered to form seductive, wholly contemporary jewelry. A classic choice. 
Discover the Marrakech Onde Collection: https://us.marcobicego.com/collections/marrakech-onde
The Africa Collection is an exuberant expression of golden boules of various sizes and finishes, each individually hand-engraved and textured, and is inspired by traditional jewelry and the gentle Saharan dunes. A bold addition to your style. 
Discover Marco Bicego Africa Collection: https://us.marcobicego.com/search?type=product&q=africa*
The exclusive Lunaria Collection was inspired by Marco's love of the outdoors. The collection is made completely of 'bulino' hand-engraved, 18K gold plates that are framed with polished gold and hand-molded by skilled artisans to mimic the lunaria flowers gently drifting in the breeze. This particular 'bulino' finish gives its distinctive gleam like no other. 
Explore Marco Bicego Lunaria Collection: https://us.marcobicego.com/collections/lunaria
Explore Marco Bicego in Bangkok Along with Curated Italian Brands
Effortlessly stand out from the crowd with the distinctive beauty, grace, and uniqueness of Italian jewelry.
The statement jewelry of Marco Bicego is exactly what you need if you adore a touch of history and legacy combined with style and elegance of a modern age. Visit our multi-brand high jewelry boutique at Siam Paragon (M Floor) or give us a call to learn more about these iconic creations along with over 20+ curated Italian fine jewelry brands.
SCINTILLA GIOIELLI
Siam paragon, Shop 46A, M Floor 991 Rama 1 Road, Pathumwan, Bangkok 10330
OPERATING HOURS:
Everyday 11:00 – 19:00
TEL: +66 2 610 9378
EMAIL: [email protected]
WEBSITE: https://scintillagioielli.com