How to Buy Jewelry? - A Definitive Guide
Buying yourself jewelry can be challenging for those who are new to the subject. As a multi-brand high jewelry shop in Bangkok, we are beyond veteran when it comes to choosing the right brands and collections that speak with each individual. There are many tiers of jewelry you could purchase; each have their own perks and may even include special techniques from an ancient era.
But don't lose heart. Because upon finishing this article you should not need to type "How to buy the right jewelry?" on Google anymore and probably out to shop with solid ideas in mind.
Let's get to it. 
Uniqueness, Craftsmanship, Timeless Appeal and Many More to Look For.
In a piece of jewelry, there can be so many aspects both seen and unseen from the eyes. From the rarity of precious stones, the heritage of the brand, the know-how of artisanal techniques and many more.
With fine jewelry, only real precious metals and gems are used in combination with superb craftsmanship in a timeless design. For high jewelry, they are made to be one-of-a-kind. A crown jewel made of the finest craftsmanship and rarest precious stones. A wearable art piece that transcends time.
If you are pondering what kind of jewelry to choose, we have summed it up below so you can look for these qualities all sophisticated fine and high jewelry have in common.
Heritage & Tradition: Fine jewelry and high jewelry are usually crafted from reputable brands with long-standing tradition and heritage. All Italian jewelers have their unique root that reflects in their work of art, usually inherited from one generation to the next. Their knowledge and lifelong practice have been entrusted to the young, who both kept and developed further. Fine and high jewelry owners are the proud keeper of one of the most precious traditions. One that has been appreciated since 3,000 BC.
Craftsmanship & Know-How: It would not be called a 'fine' or a 'high' jewelry without exceptional craftsmanship. Most of the time, the craftsmanship displays are not just exceptional, but strikingly unique to the brand. Think of it as the brand's signature style. For example, a fine jewelry brand like Fope crafted a flexible bracelet that could be extended for a comfortable fit – all crafted entirely from 18k gold. This is the result of research and craftsmanship which is unique to Fope alone. Other Italian brands have this 'signature style' as well. Choosing the right jewelry means finding which unique style feels right for you.
Rarity: Especially for high jewelry, one that goes above and beyond fine jewelry, rarity plays the key part. A collection can be replicated, but the gemstone used for each piece can never be the same. Most high jewelry and some fine jewelry brands select rare, natural gemstones of the highest quality. Coupled with meticulous craftsmanship, a one-of-a-kind masterpiece is born.
Technological Advancement: Italian jewelers not only inherit the crafts passed on to them from previous masters of the art, they also seek to combine state-of-the-art technology of modern times to create something that surpasses the old. Take the fine jewelry brand Mattia Cielo for example. They combined 18k gold, diamonds, coloured gemstones with some spaceship material such as titanium for extreme lightness and shape retaining quality after rigorous use. With technological advancement of today, Mattia Cielo opened up a different path in the world of fine jewelry.
World-Class Quality: We cannot stress this enough. For Italian jewelry, the standard of gold is 18-karat which is the purest form possible for jewelry. Most fine jewelry brands have their gold made in-house by master goldsmiths to ensure the highest quality before crafting them into shape. The shine and particular gleam of Italian gold jewelry are renowned as the best in the world. Each piece made in Italy is a solid guarantee of its world-class quality.
One-of-a-Kind: For fine jewelry, even more so in high jewelry, the one-of-a-kind aspect is achieved through detailed craftsmanship which cannot be replicated even in the same collection. It is these masterful hand-engraving, gold twists, unique colours and more that make each jewelry unique.
These are some of the qualities that sets fine and high jewelry apart from the rest. Let's explore a bit more on fine and high jewelry.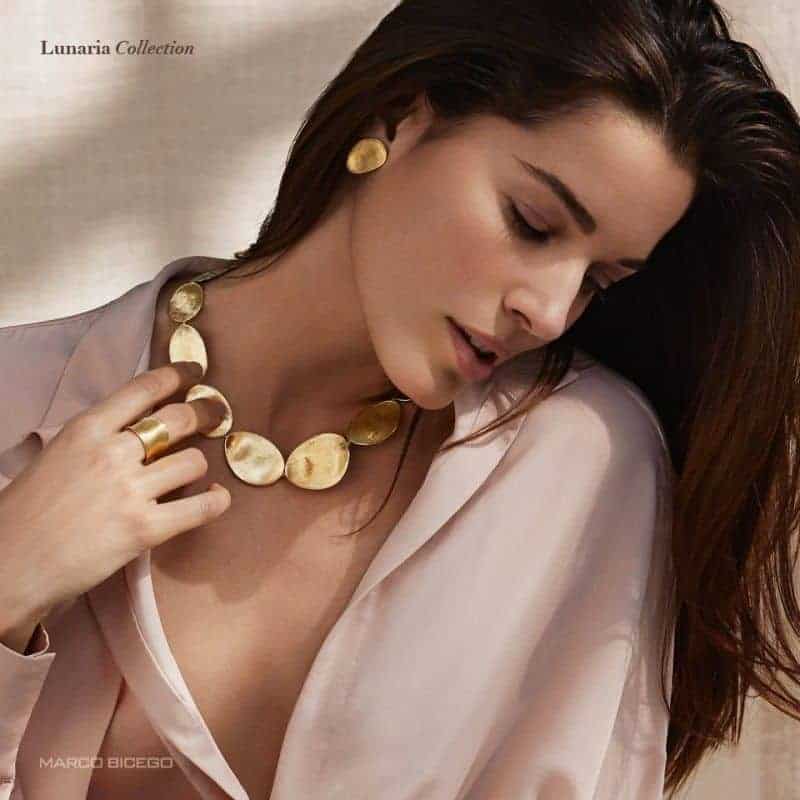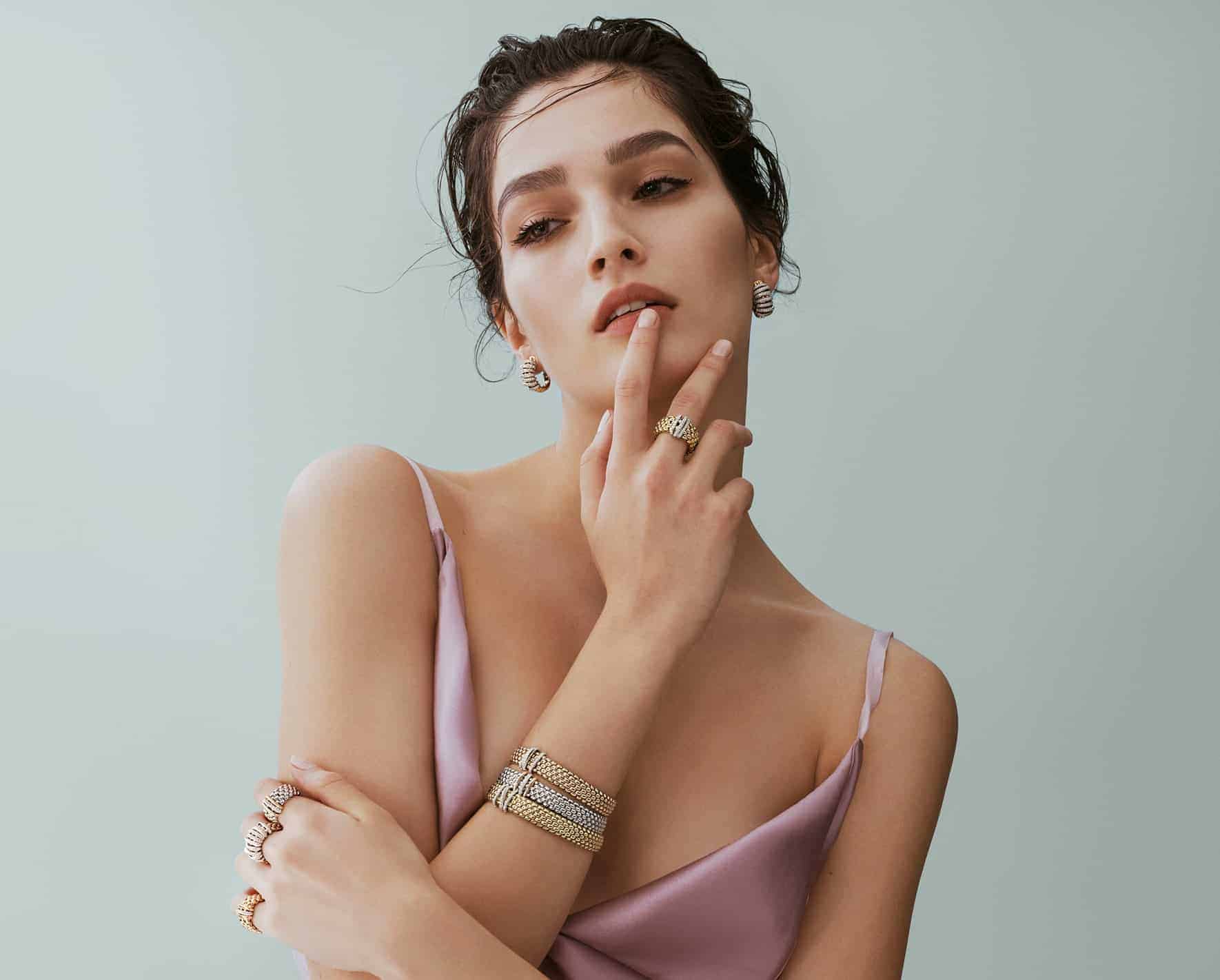 Left: Marco Bicego Lunaria Collection: https://us.marcobicego.com/collections/lunaria
Right: Fope Flex'It Collection: https://scintillagioielli.com/product-category/fope/
For those who are still wondering about the difference between fine and high jewelry, we recommend this article: https://scintillagioielli.com/what-is-the-difference-between-high-and-fine-jewelry/
——————————————————————
Refinement and authenticity are the keys.
If you are looking for a unique piece that will retain its value over the years, has a more timeless appeal and is made with precious metals and authentic gems, fine jewelry is the right category to look for.
With fine jewelry, we are talking about the quality of the gold and gemstones, uniqueness in design, tradition of the brand and the level of craftsmanship and handmade finishes that goes into the piece.
Fine jewelry gives a more refined look regardless of its design or colour. Buying fine jewelry means you are not only paying for high quality precious metal such as 18k white gold or natural gemstones, most likely you buy the brand's craftsmanship and innovation as well.
For example, Marco Bicego gold jewelry is highly recognizable because of their distinctive hand-engraved patterns inherited from its Italian master goldsmiths that reflect light much differently from others. Or take a closer look at the Fope Flex'It collection, stunningly made with only 18k gold in its signature Novecento mesh style. In between each piece, master craftsmen hid dozens of springs, also made from 18k gold, inside making the whole bracelet fully-flexible like no other.
These aspects of fine jewelry, combined with their high-value material and artisanal craftsmanship, are what make fine jewelry a sophisticated piece of art in their own right.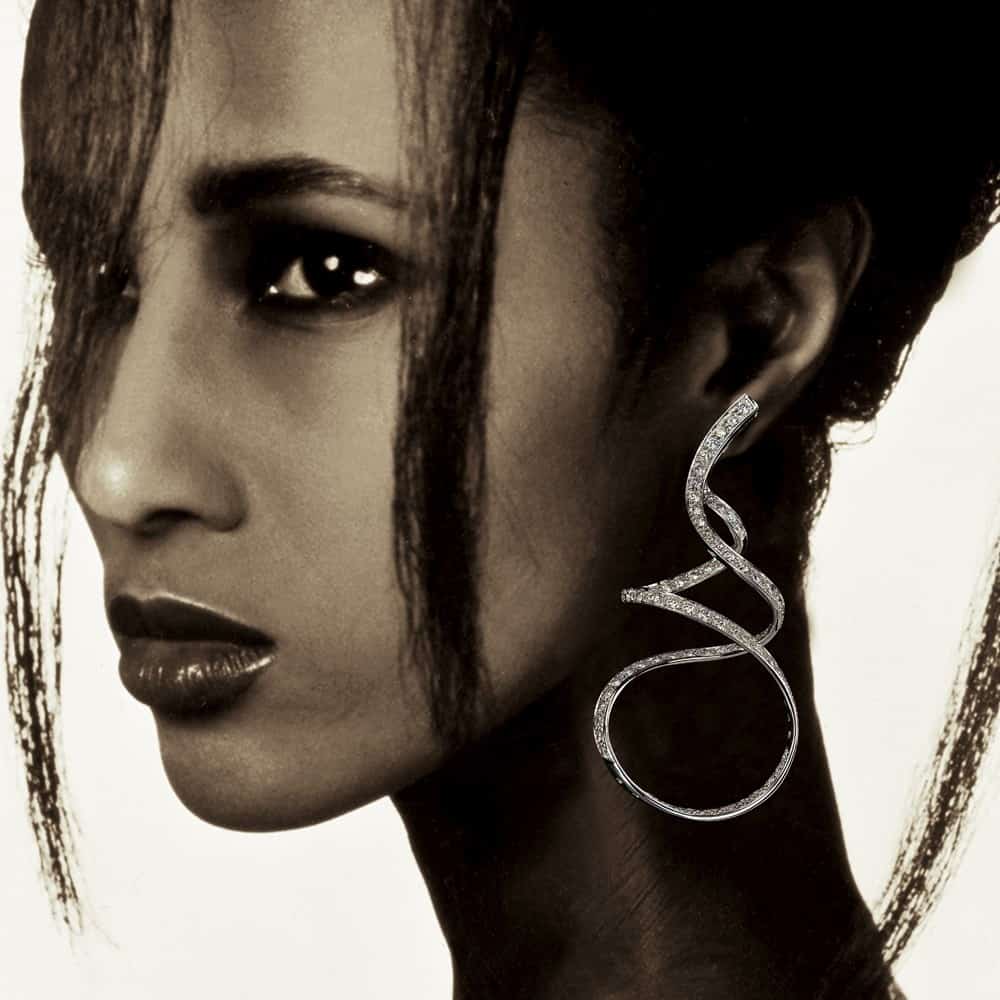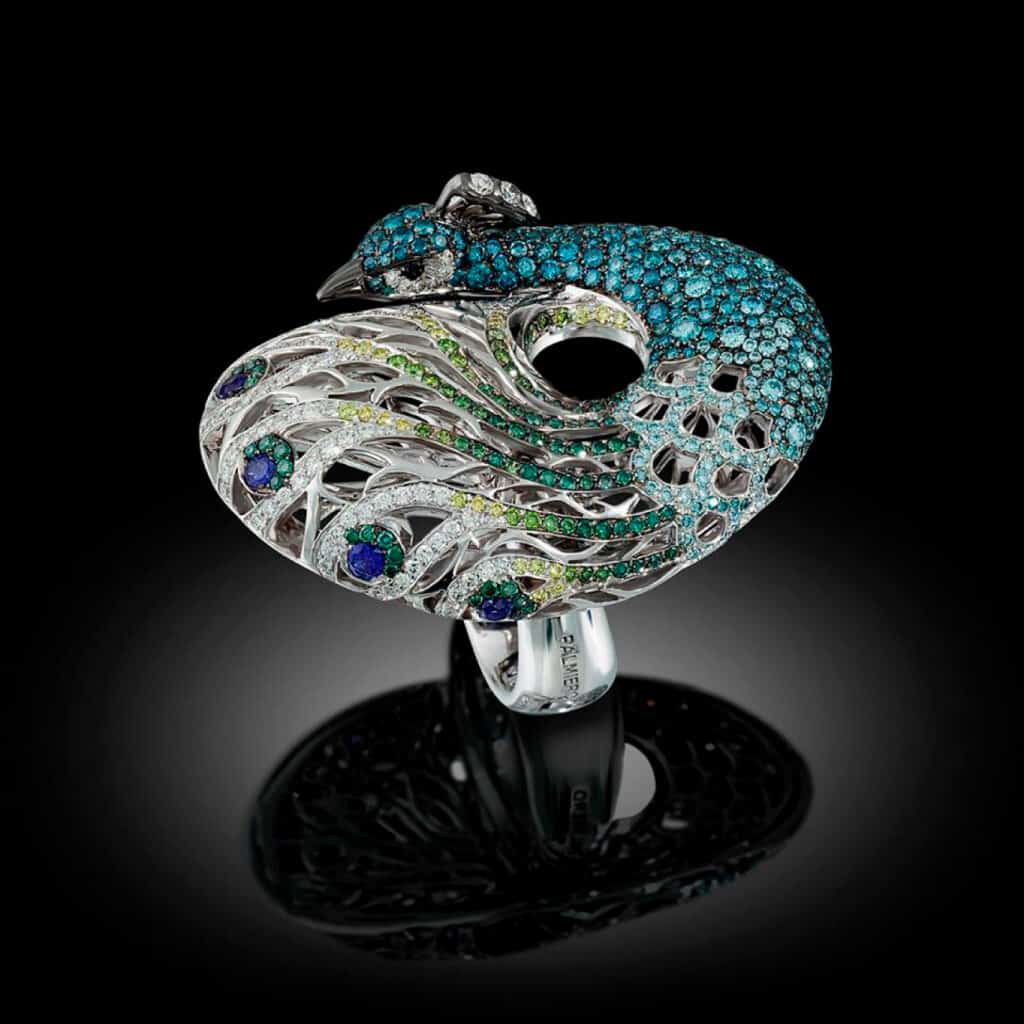 Left: Scavia Sandra Dia Earrings: https://scintillagioielli.com/product-category/scavia-gioielli/
Right: Palmiero Peacock Ring:  www.palmierogioielli.com
——————————————————————
Take for example the elaborate Palmiero Pavone Ring (top right) which took months to complete. The jeweler modeled the peacock using wax techniques to imitate down to the last detail with perforated wings that gives lightness and volume. Followed by goldsmiths that formed the ring with 18k white gold and artisans that took their time to create a gradient effect using various shapes and sizes of natural gems. This is what it takes to create a single piece of high jewelry.
After knowing the 'tier', now you would like to explore various brands and styles. For fashion jewelry there are simply too many styles and trends that are changing so we will omit the part, but for fine and high jewelry, there are a few brands that may get your attention.
Discover Italian fine and high jewelry brands below and explore their collections in the link.
An Italian goldsmith located in Vicenza, Italy since 1929. Fope is famous for their 'Flex'it Bracelets' made entirely out of 18k gold which later applied to all fine jewelry under their brand such as earrings, rings, etc. This new found flexibility and comfort on the skin made it a popular 'everyday luxury' choice for contemporary ladies. Simple yet stylish.
See Fope: https://scintillagioielli.com/product-category/fope/
2. Fine Jewelry: Annamaria Cammilli
Annamaria Cammilli is famous for its sculptural forms, 8 unique colours of 18k gold, special "Aetherna" finish that made gold surface looks like silk, and its innovation that bridges the past and the future – 100% made in Italy with quality beyond compare.
Scintilla Gioielli loves the fact that there are just no other brands that can mimic these unique colours Annamaria Cammilli offer like 'Apricot Gold', 'Black Lava', 'Chocolate Brown', 'Pink Champagne' and more that ensure you stand out from the crowd.
See Annamaria Cammilli: https://scintillagioielli.com/product-category/annamaria-cammilli-jewelry/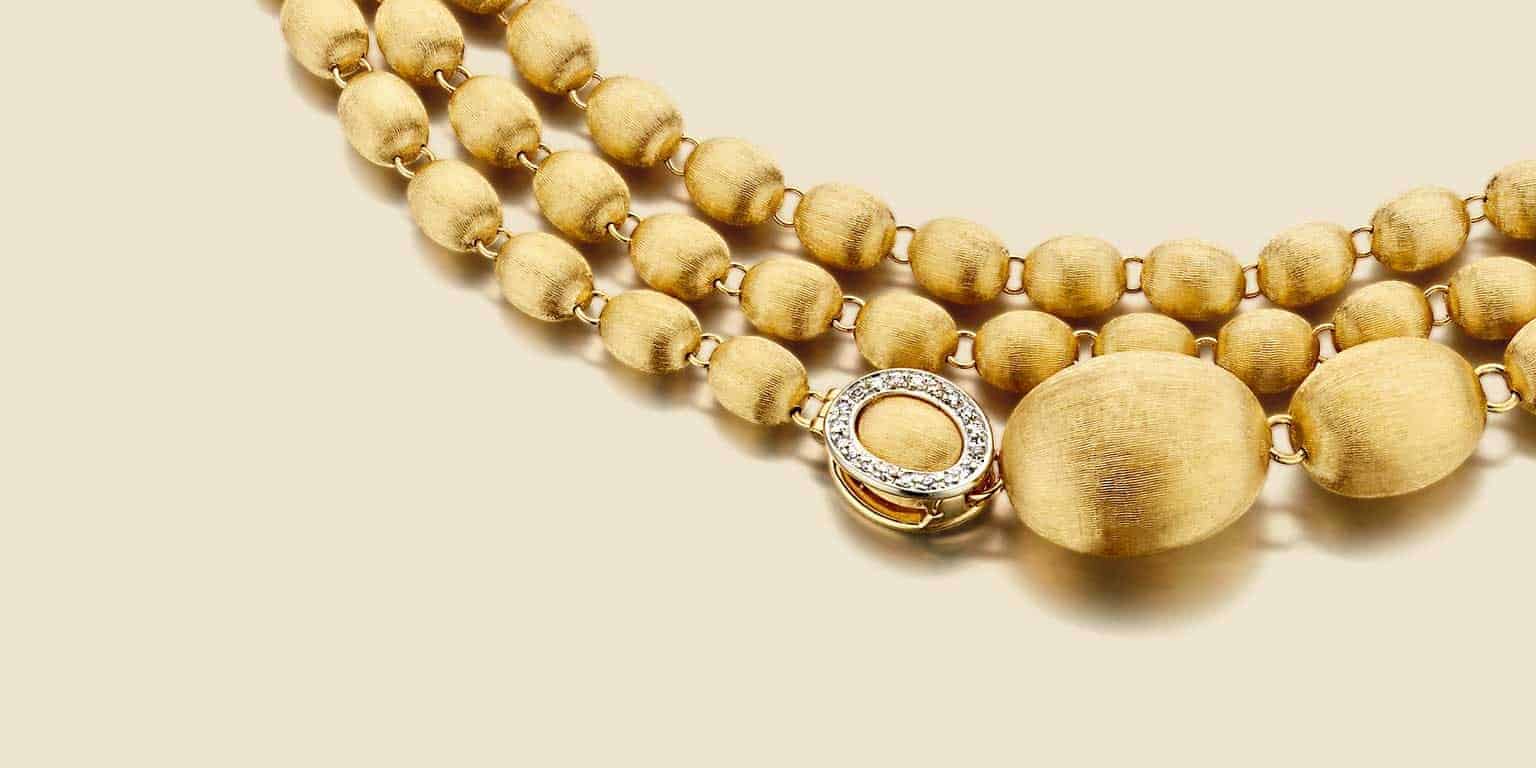 Nanis is another Italian jewelry company with headquarters in Vicenza, Italy. Nanis is famous for its 'Boule' which signifies the organicity, sinuosity and the balanced "roundness" of Nature – all of which is reflected in women. These 'unusual gold pearls' dubbed by the founder are hand-engraved using a traditional tool line by line to create a unique gleam. This texture defines many of Nanis collections over the years with new interpretations of beauty.
See Nanis: https://scintillagioielli.com/product-category/nanis/
4. Fine Jewelry: Mattia Cielo
This Italian brand is regarded as a 'Moving Jewel' and 'The Jeweler of the Third Millennium' as they managed to elegantly fused technology with rigorous craftsmanship. Lightness and flexibility are the key elements of all collections. Some are even designed with aerospace grade materials with 18k gold to ensure extraordinary light weight and durability.
Explore more: www.mattiacielo.com/jewels
5. Fine Jewelry: Marco Bicego
Located in Vicenza, Italy's capital of gold, Marco Bicego incorporates Italian traditions and virtues passed down from his father to create handcrafted jewelry that represents the luxury of Italian craftsmanship and contemporary design. Every step from molding gold is done in-house to ensure the highest quality.
The brand is unique with special hand-hammered and hand-crafted finishes such as this Lunaria Collection with its different gleam like no other. Marco Bicego is also famous with its 'Twisted' design of gold bracelets and necklaces.
Explore the brand: https://us.marcobicego.com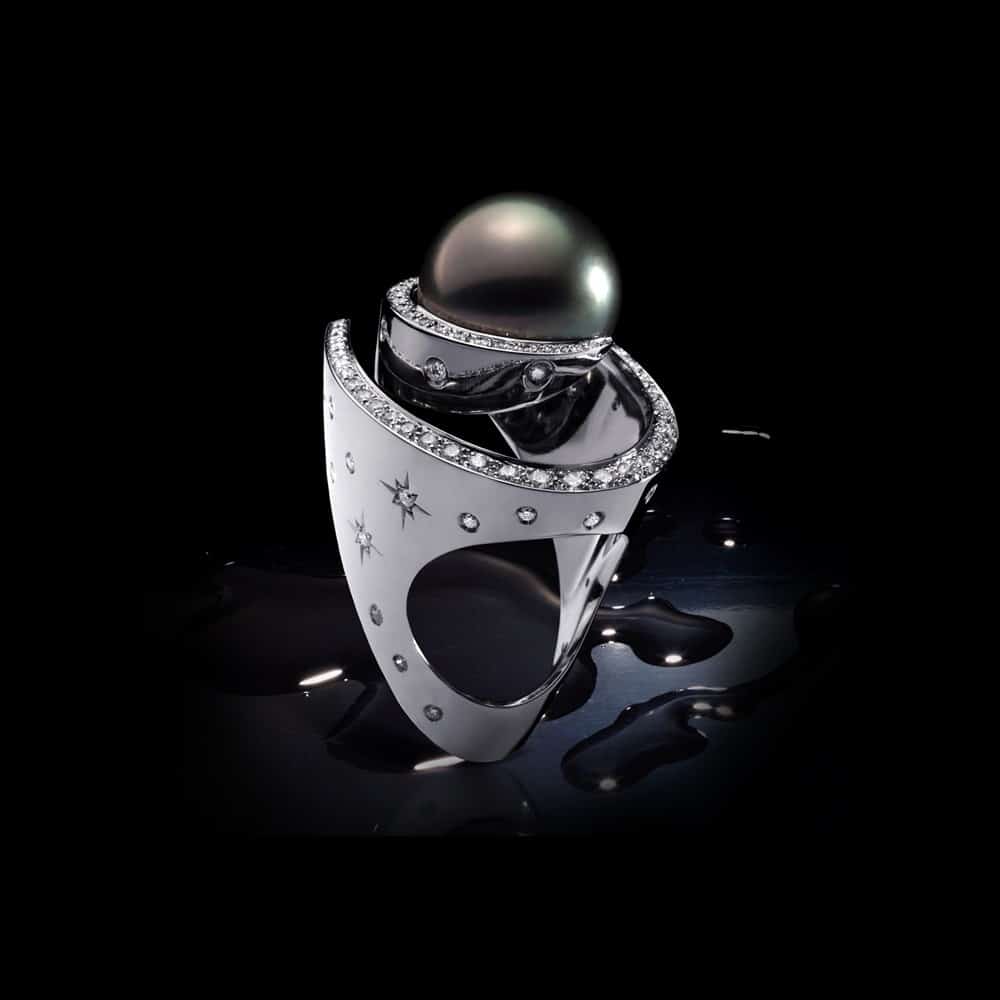 Founded in 1911 in Milan, Scavia is a global leader in the high jewelry market found in fashion capitals around the world such as Tokyo, New York, Milan and Bangkok. Fulvio Maria Scavia, a third generation fine jewelry designer has won the industry's highest award, the Diamond International Award – Dubbed the Jewelry Oscar for a staggering 15 times.
Scavia jewelry is popular among royalties such as Queen Sirikit of Thailand, the family of the Japanese Emperor Sharon Stone and Meryl Streep and even the family of the King of Saudi Arabia bought a set.
For those who seek something that is no less than exceptional. Something that is truly 'one-of-a-kind'. This high jewelry brand is to go for.
Explore why: https://www.scavia.it/
7. High Jewelry: Palmiero
Carlo Palmiero started his career in the 60's where he practiced with master craftsmen in Valenza, a small town in the northern part of Italy. The town is famous for its goldsmith tradition and he fell in love with it.
A decade after, Carlo Palmiero sought to modify the standards of classical jewelry and moved the attention from the 'center' of the object to the whole piece since the 60's where he first. This different approach made any Palmiero jewel a 360-degree sculpture. Later in 1979 Palmiero started his own brand which today became famous in the world of high jewelry. To this day, the 'sculptural' form of Palmiero jewel shows top quality and creativity, authentic haute couture jewels proudly made in Italy. Another one-of-a-kind jewelry brand that crafts timeless treasure that will retain its beauty and value for generations to come.
Discover Palmiero: www.palmierogioielli.com
Schedule a Visit at a Jewelry Boutique
Most of us agree that it is a great idea to see the real thing before buying jewelry so you can decide if it fits you right. While many people researched in advance and narrowed down which brand and collection they like, nothing confirms that your choice is better than getting to see the real piece up close.
For fine and high jewelry, image alone cannot do it justice. Watch closely and you may find out stunning details about the piece. How it reflects light differently. The subtle patterns engraved by hand and much more.
If you are in Bangkok, Scintilla Gioielli is located conveniently at the heart of Bangkok's shopping district at Siam Paragon (M Floor). Both walk-ins and private appointments are welcome. We are an authorized seller of more than 15 world-class Italian jewelry brands with focus on uniqueness, craftsmanship and authentic Italian quality.
Siam paragon, Shop 46A, M Floor 991 Rama 1 Road, Pathumwan, Bangkok 10330
OPERATING HOURS:
Everyday 11:00 – 19:00
TEL: +66 2 610 9378
EMAIL: [email protected]