CARLO BARBERIS JEWELRY: SYMPHONY OF ARTISTRY
A Journey Through Carlo Barberis' History
Carlo Barberis jewelry exudes timeless beauty, evoking a sense of enchantment and fascination. Carlo Barberis, born in 1909, honed his skills in the craft, eventually establishing his own workshop in 1929. As the years passed, Carlo's workshop gained renown, earning the distinction of trademark Nr 39, now the oldest in Valenza. Marrying Valeria in 1940, she became a vital part of the company, infusing it with her love of colours and a brilliant vision as a designer. Clients were welcomed into their living room, which served as both a workshop and an office. The fireplace became a symbol of their warm welcome as well as an expression of their vivid inventiveness. Carlo and Valeria established a powerful duo, combining their talents to take the brand to new heights.
Valeria's love for colours breathed a vibrant dimension to the designs of their jewelry. Her sparkling imagination infused each creation with a sense of enchantment and joy. The combination of Carlo's technical mastery and Valeria's artistic flair resulted in jewelry that resonated with those seeking unique and vibrant pieces. Carlo Barberis jewelry became a celebration of individuality, offering wearers an opportunity to express their personality through a kaleidoscope of colours.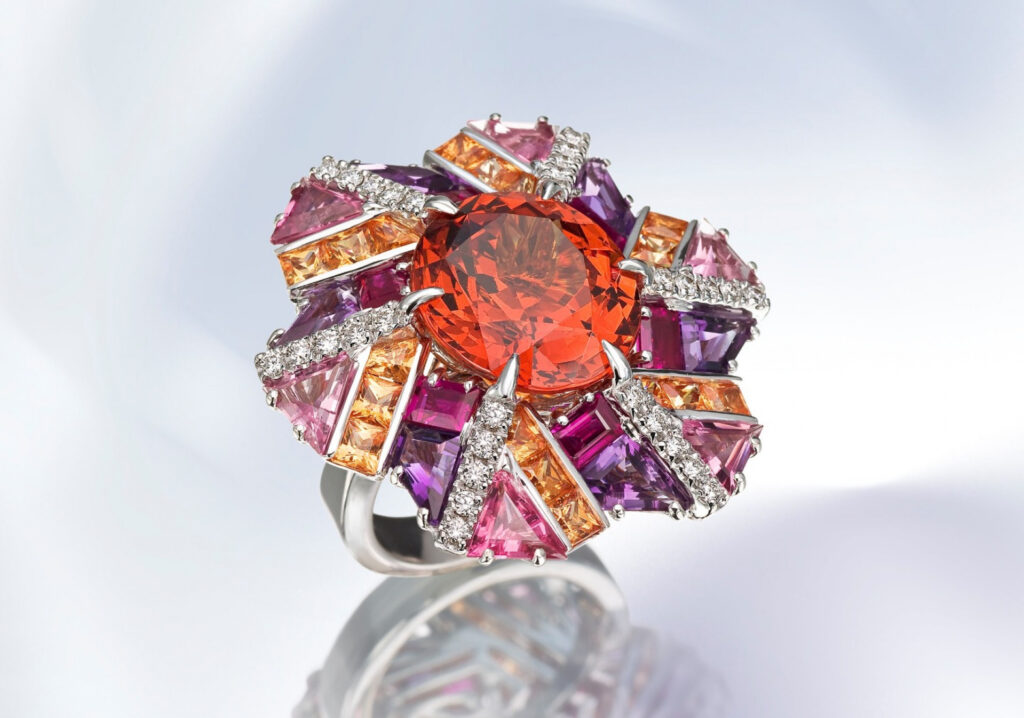 Showcasing The Exquisite Design of Carlo Barberis in Bangkok
Carlo Barberis jewelry has always been distinguished by delicate touches of imagination, enchanting the hearts of jewellers and connoisseurs alike. The brand rapidly became known for its beautiful utilisation of colour gemstones, which infused each item with a captivating charm. Carlo went on an exploratory path, pushing the boundaries of conventional techniques and adding to Valenza's rich goldsmith history. His innovations would have a lasting impact on the craft. Paving his way onto the world, his jewellery is renowned internationally with flagship stores all over the world. You can find Carlo Barberis in Bangkok at Scintilla Gioielli, our multi-brand high jewelry store on the M floor at Siam Paragon.
From intricately detailed necklaces that cascade like ethereal waterfalls to rings adorned with brilliant gemstones, every creation is a masterpiece that celebrates the wearer's individuality with elegance and grace. The gemstones shimmer like celestial stars, radiating brilliance and capturing the essence of opulence. Intricate designs dance with light, reflecting the brand's dedication to creating jewelry that is both visually captivating and emotionally stirring. With each piece, the works of art from this brand weaves a spellbinding tale of sophistication, elegance, and a love for the extraordinary.
Carlo's career in the world of goldsmithing is distinguished by sophisticated craftsmanship, creative experimentation, and Valeria's passionate spirit. They established a legacy that has left a lasting impression on the jewelry industry. Carlo's fundamental sense of balance and refined taste, together with Valeria's love of colours and sparkling imagination, have helped shape the brand's identity. Discover the beauty and exclusivity of Carlo Barberis jewerly in Bangkok first hand at Scintille Gioieill, a multi-brand jewelry shop in Bangkok at Siam Paragon (M Floor).